Contrary to what you may assume, a rowing machine isn't meant for professional rowers only. It's a piece of essential gym equipment, also known as an ergometer, that tones and strengthens your muscles, enhance endurance, and also provides astounding health benefits, in particular, for the heart and lungs. A rowing machine works up about 86% of your body's muscles and, therefore, forms a vital part of a person's gym regimen. 
The rowing machines that you see in gyms today are a result of drastic evolution. The first-ever rowing machine wasn't anything near to what you use today. In fact, the first rowing machine was created as far back as the 1800s to help on-shore rowers train their muscles to move out onto the water eventually. 
A patent for the first rowing machine was issued in 1872 in the US. This rowing machine included a ratcheting system and flywheel. Back then, it was the first of its kind mechanism and formed the base of the rowing machines that we use today. Rowing machines have improved vastly in design and fluidity of motion from the time they were first introduced, and today, they're one of the most important of all gym equipment.  
Initially, rowing machines were only meant to help rowers in their training, but by the 80s, rowing machines were widely used as training equipment for fitness enthusiasts and athletes. The 90s marked the revolution of rowing machines, where the feature of digital performance tracking was incorporated in the rowing machines. 
Despite the revolution, these rowing machines weren't as reliable and capable as the current rowing machines. The rowing machines that you see today are not only capable of assisting you in your fitness journey but are also versatile, with various options available today that are suitable for gym and home use. You might find our types of gyms article an interesting read.
If you've been planning to invest in a good rowing machine, you should educate yourself first regarding the various types of rowing machines available. Most importantly, it would be best if you researched the different factors that you must take into consideration before investing in any rowing machine. 
And this article is just what you need right now – an in-depth account of rowing machines.
How to Choose a Rowing Machine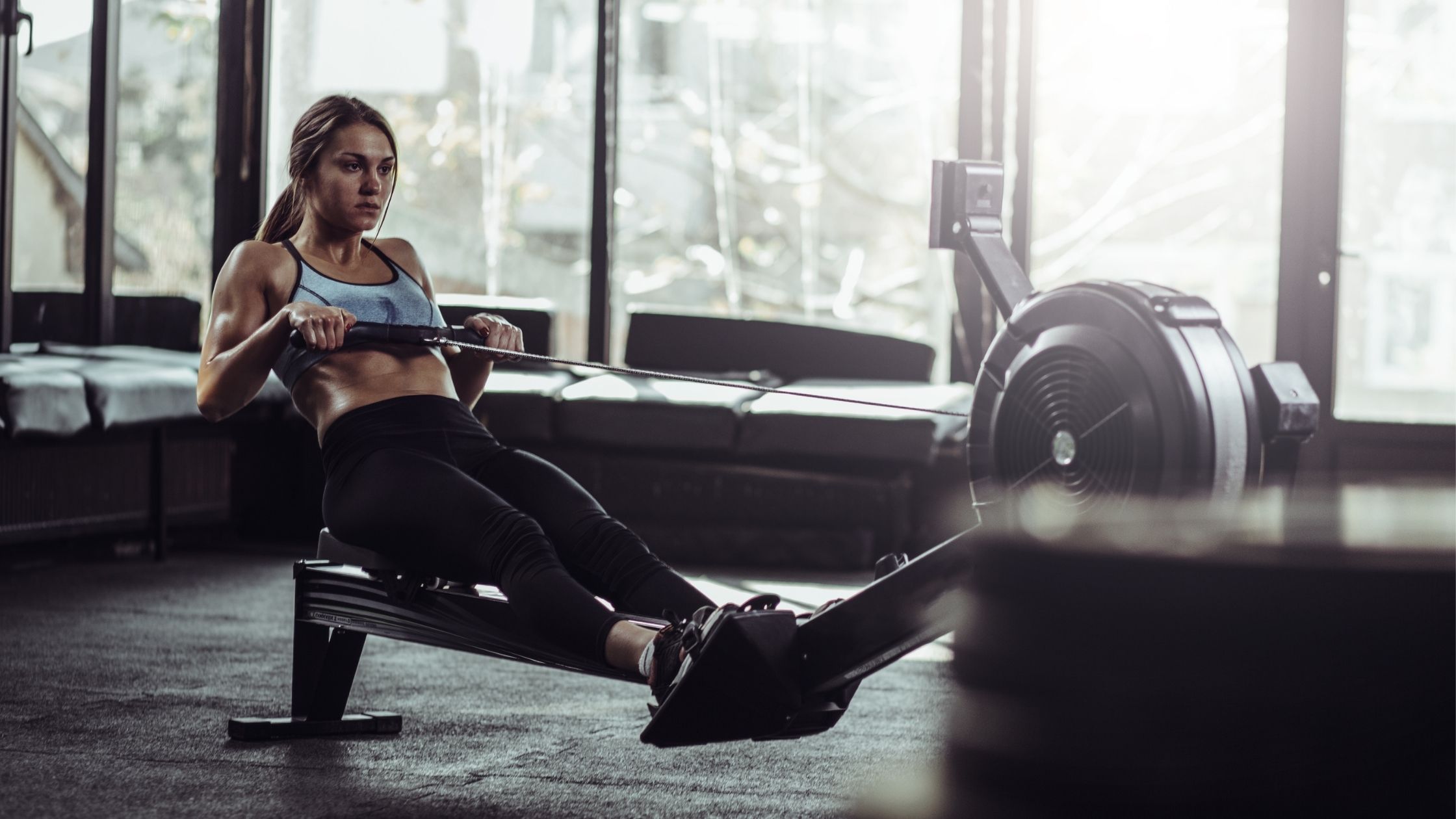 With so many types of rowing machines available in the market today, it's undoubtedly challenging to choose the one that suits your requirements and needs best. However, if you know what factors to take into consideration when buying a rowing machine, you'll be able to make the right choice. Let's have a look at the essential considerations that you should take into account before reaching a decision. 
Comfort
Your workout session doesn't have to be uncomfortable. Even though they say 'no pain, no gain,' the pain discomfort caused is anything but sweet. One of the first features to consider when buying a rowing machine is to check whether the seat is comfortable or not. Since you'll be sitting in one position for a long period of time, the seat should be padded, contoured and comfortable. If you've to stop rowing to adjust yourself onto the seat every few minutes, it'll only break the flow and focus. The seat should be not only comfortable to sit on but also comfortable to get onto. A seat too high or low from the ground isn't recommended.
Foot Straps
The next important feature to look for in a rowing machine is whether or not the foot straps are adjustable. Your feet should be fixed on the footrest so that they don't slip while you row. Adjustable foot straps offer flexibility and are suitable for everyone, regardless of what their foot size is. If you've got 2 people using the rowing machine at home, you certainly won't buy 2 rowing machines to suit each user's foot size, will you?
Resistance
Resistance options are an important consideration. When you see various rowing machines, you'll see there are different resistance options, air and water resistance being the best. It makes rowing smoother. When you're buying a rowing machine, check whether the resistance can be adjusted. If a rowing machine has adjustable resistance, you can change it to suit you throughout your workout session. This is specifically important for people who've got specific fitness goals. 
Size and Storage
If you're buying a rowing machine for in-home use, size is a very important factor that you should consider. A rowing machine can take up a lot of floor space, so you should opt for one that isn't too huge and is easy to store. 
Noise Level
Some rowing machines can be very loud. It may be a concern if you're planning to work out during hours when the rest of the people at home are asleep or if you prefer working out outdoors. Look for a rowing machine that's quiet so that it doesn't cause any sort of inconvenience, indoors or outdoors.
Maintenance
A rowing machine that has detachable parts is easier to maintain than one that has more complicated parts. If a part of the machine breaks down, it's easier to replace a piece that can be detached, making the whole maintenance process a lot easier. So, look for a rowing machine that doesn't feature a design that's too complicated. 
Additional Features
Other features that you should look for in a rowing machine if your budget is not a concern, are Wi-Fi connectivity, a digital display screen, pre-programmed workouts, etc. The more features, the better the rowing machine is for professional use. If all you want to use your rowing machine for is a basic workout, a simple rowing machine with just basic features will do the job well for you.
Types of Rowing Machines
There are numerous types of rowing machines, each having different features. Let's have a look at the major types of rowing machines that are available in the market today.
Hydraulic Rowing Machine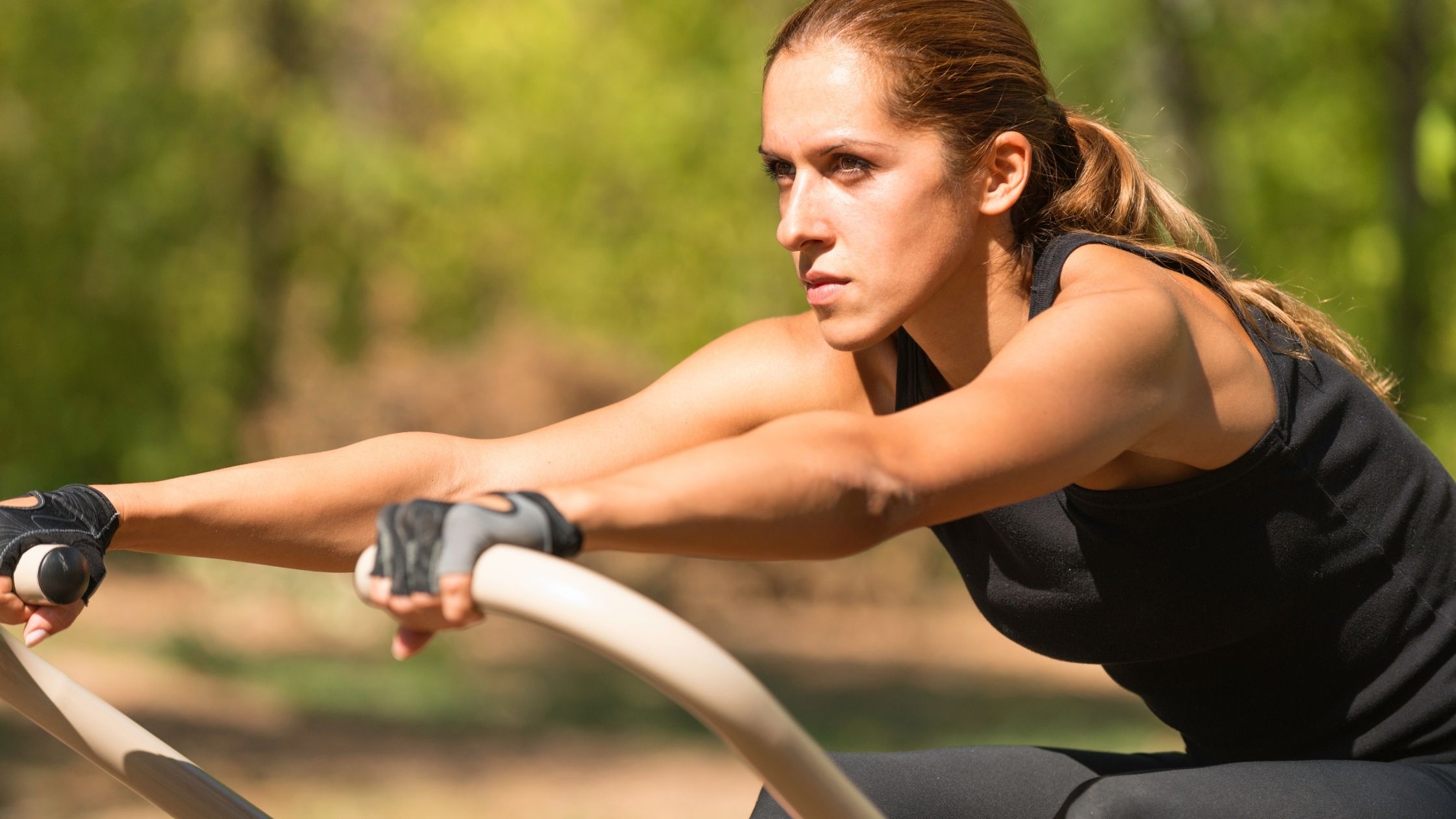 The hydraulic rowing machine is one of the most budget-friendly rowing machines. It's also the best option for people who've got limited space in their homes. The hydraulic rowing machine receives tension from the compressed fluid or air in a piston or cylinder and can be adjusted as per the user's preference. Piston rowing machines are ideal indoor rowing machines. The only drawback of these rowing machines is that you can't position yourself into a rowing position, and therefore, synchronizing arm and leg movements isn't possible.
Flywheel Rowing Machine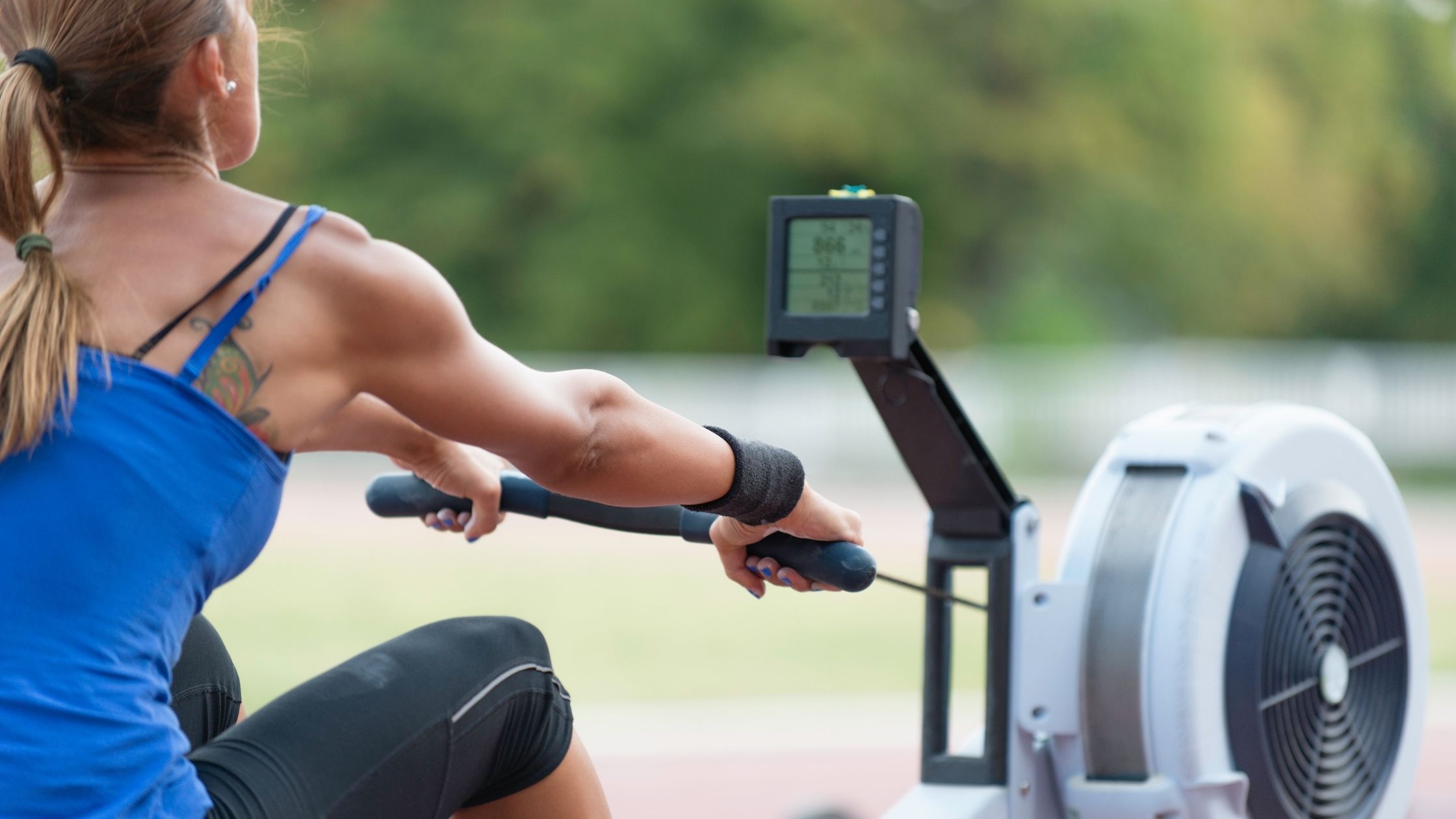 A flywheel rowing machine, also known as an air rowing machine, offers an experience similar to outdoor rowing. When the user pulls the machine, the flywheel that has fan blades spins, which is what gives this type of rowing machine its resistance. If you want more resistance during your workout, all you're required to do is pull harder. The faster the flywheel spin, the more will be the air resistance. This type of rowing machine provides a near-to-natural, smoother, and continuous rowing stroke.
Magnetic Resistance Rowing Machine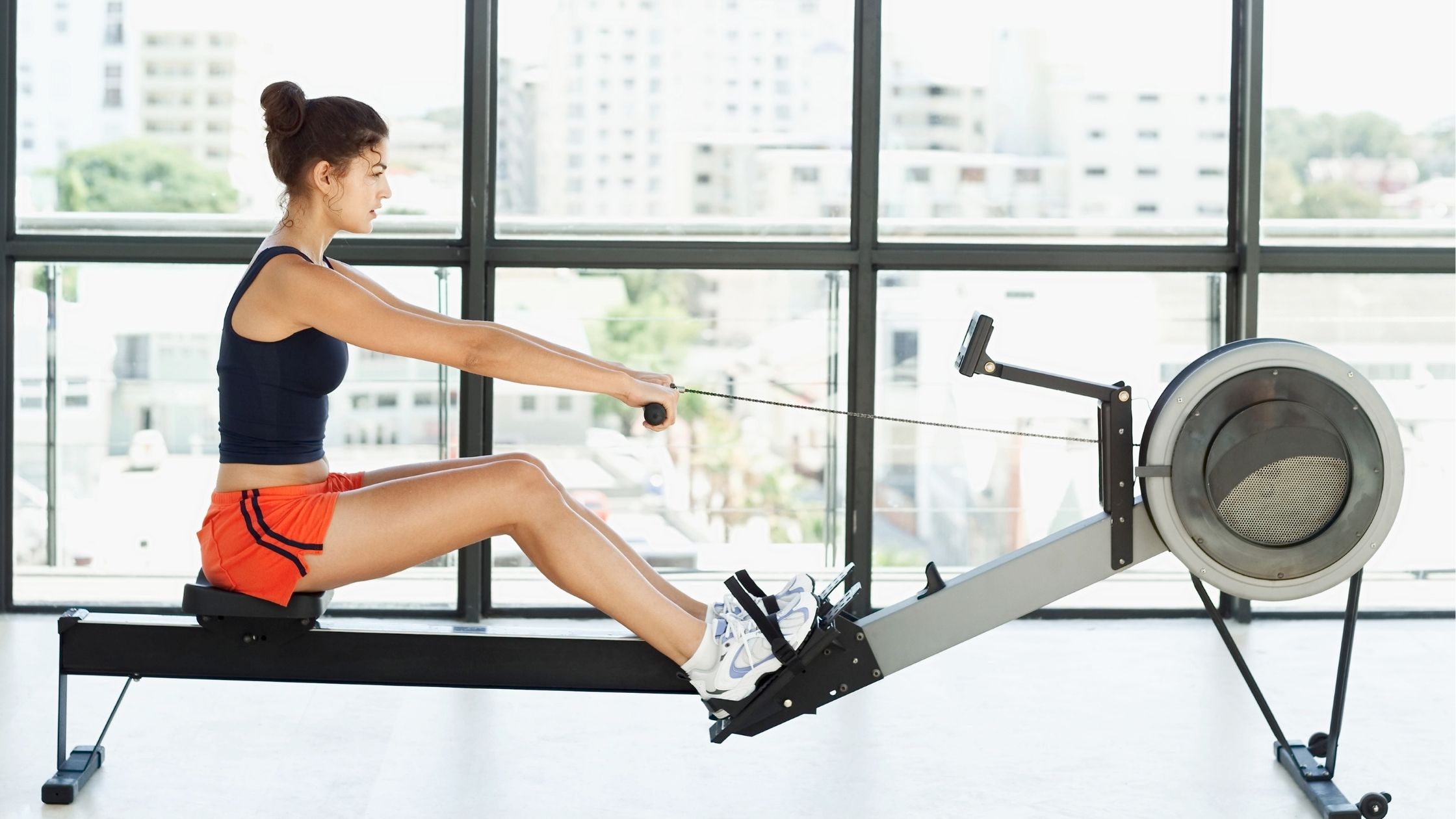 If you're looking for a virtually silent rowing machine, the magnetic resistance rowing machine is what you should consider buying. These machines are noiseless and provide a super-smooth rowing stroke. They receive their resistance from the magnetic brake system.  The reason why magnetic rowing machine produces no sound is the fact that there is no friction between the moving parts, unlike flywheel and hydraulic rowers. 
Water Rowing Machine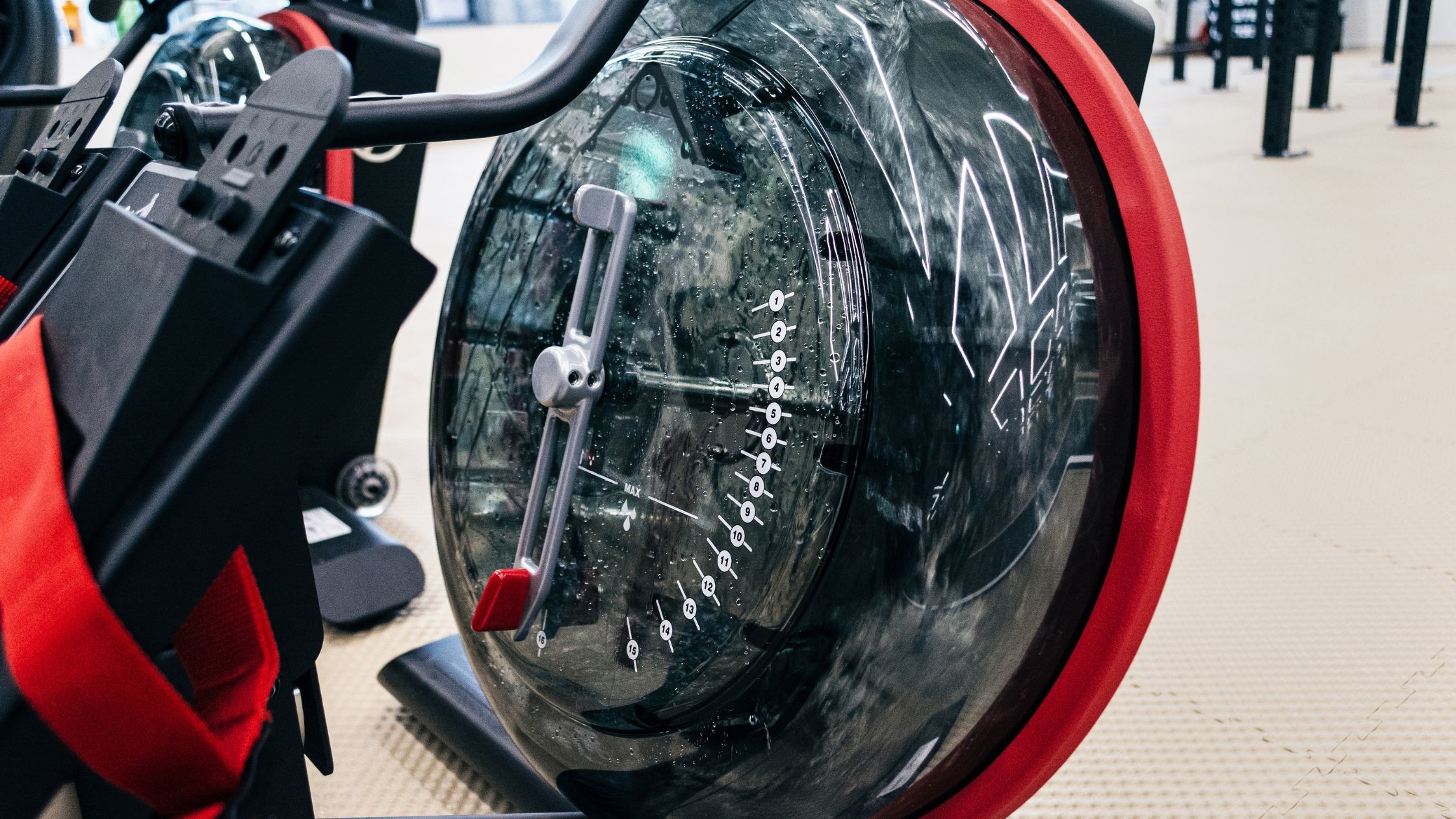 Water rowers are water-based rowing machines (as the name suggests) that are ideal for individuals who participate in outdoor rowing actively. The dynamics of the WaterRower emulate that of actual rowing that's moving through the water. These rowing machines receive their resistance by the movement of water as it moves past the tank. Water-based rowing machines are also virtually silent. The only audible sound that you'll hear in a water rower is that of swishing water. 
Recumbent Rower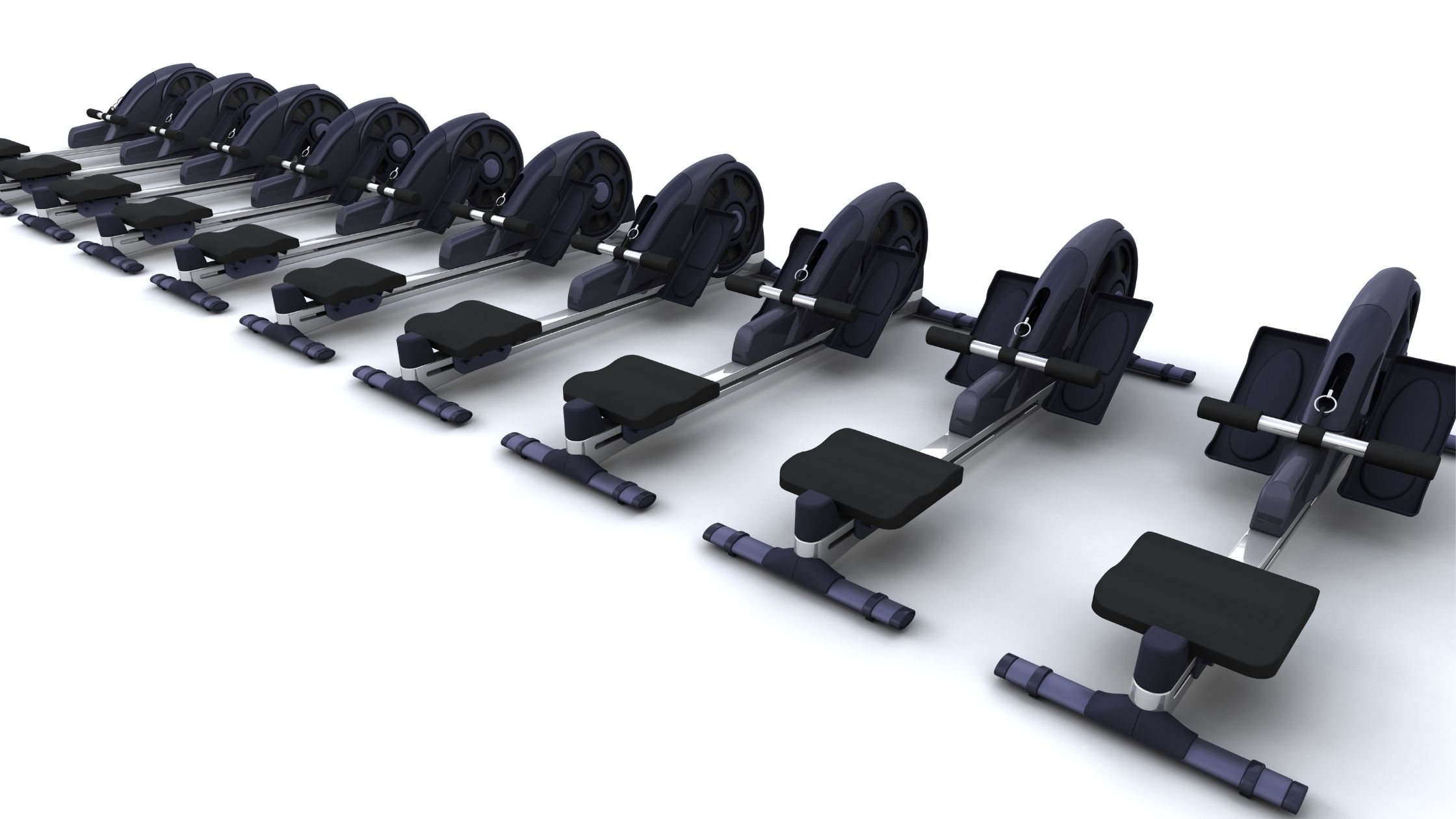 With a recumbent rower, you get to enjoy the benefits of two fitness equipment; a rower and an exercise bike. It features a comfortable seat with a backrest. A recumbent rower allows you to enjoy a full-body workout with the rower and leg and cardio strengthening workout with the recumbent bike. It's an ideal option for people who are looking for a piece of 2-in-1 fitness equipment for their limited in-home gym space. 
Most Expensive Rowing Machine
The NordicTrack RW900 Rowing Machine
The most expensive rowing machine that we've come across so far is the NordicTrack RW900. It costs $1599, and its astounding features totally justify the price. 
The NordicTrack RW900 is equipped with magnetic resistance that makes it virtually silent. The feature of the rower that makes it stand out among all other rowing machines in the market is its incredibly large, 22-inch rotating HD touch screen. You can browse through plenty of iFit workouts that have been filmed around the world. Not only this, you can enjoy studio classes for various intensity levels and durations, making the NordicTrack RW900 suitable for both beginner and professional-level rowers. As if all of this wasn't enough, you can also access training from world-class athletes. With the NordicTrack RW900, you can enjoy a thoroughly engaging workout session.
The NordicTrack RW900 isn't limited to rowing only. It offers endless training possibilities, including strength training, yoga, cross-training, and studio rowing sessions. 
You can even track your fitness progress. You can see how effective your workouts are and what room is there for improvement.
In short, bringing the NordicTrack RW900 home is equivalent to bringing a professional fitness coach home. 
Why is it So Expensive?
The highly interactive and engaging iFit program and the 22-inch HD touch screen that rotates 360o and tilts to offer you the best view are some of the features that make the NordicTrack RW900 so expensive.
Features
Noiseless operation

Magnetic resistance

22-inch HD rotating and tilting touch screen 

iFit program features numerous training sessions and lessons

Numerous workout possibilities

Foldable design

Bluetooth headphone connectivity
Price
$1,599
View product on Amazon.
Best Rowing Machine Under 1000
Stamina Conversion II Recumbent Power
This Stamina rowing machine is a piece of 2-in-1 fitness equipment that offers the benefits of a recumbent exercise bike and a rower. It's an ideal rowing machine for individuals who wish to do a full-body workout at home. This Stamina Conversion makes way for exercises for upper body strengthening, including triceps kickbacks, bicep curls, and forearm curls. The rower converts into a leg press when the rowing handle is attached to the seat hook, adding to its versatility. 
It also features a large LCD display screen that makes it easier for the user to keep track of the distance, time, and speed of rowing along with the pulse and number of calories burned. It's equipped with a hand pulse sensor in the grips that measures and displays the heartbeats per minute on the LCD screen.
Why is it the Best Rowing Machine Under 1000?
The 2-in-1 functionality, the comfort, and the variety of workouts it offers to make the Stamina Conversion II Recumbent Power the best rowing machine under $1000.
Price
$799
View product on Amazon.
Best Rowing Machine Under 500
Sunny Health and Fitness Magnetic Rowing Machine
At less than $500, the Sunny Health and Fitness Magnetic Rowing Machine offer a pretty good number of features, making it the best rowing machine at this price.
It comes with adjustable resistance. The user can adjust the resistance at any level from 1 to 8, where 8 is the hardest, making this rowing machine suitable for even seasoned rowers. The digital LCD screen displays essential factors like the number of calories burned, heart rate, split times, etc. The sweat-resistant handlebars and padded seats make the rowing experience comfortable and a lot more enjoyable. Another notable feature that makes the Sunny Health and Fitness Magnetic Rowing Machine an excellent option for in-home use is the easy folding and storage possibility. Once you're done using it, simply remove the bolt by foot, fold it, and store it for the next time. 
Why is it the Best Rowing Machine Under $500?
The Sunny Health and Fitness Magnetic Rowing Machine offer many features at a very affordable price. From adjustable resistance to an LCD monitor to a comfortable rowing experience, it definitely is one of the best budget rowing machines at this price. 
Price
$249.98
View product on Amazon.
Rowing Machine Accessories
If you want to make your indoor rowing experience more rewarding and enjoyable, we suggest you invest in rowing machine accessories. Below is a list of some of the best accessories that you should consider buying with your rowing machine. 
Additional Padded Seat
Since all your weight will rest on the seat of your rowing machine, it should be comfortable. If the seat of your rowing machine isn't padded and comfortable enough, buy an additional padded seat that adjusts over the permanent seat to make your workout session more comfortable. 
Gloves
If you're planning to row for extended durations, you'll need gloves. Excessive resistance on your palms against the handlebars may cause rashes and blisters. To save yourself the pain, it's best to buy gloves beforehand. 
Light Rowing Clothes
Investing in light rowing clothes is also very important. Rowing is a full-body workout, which means you'll sweat profusely. Sweaty clothes are never comfortable. In fact, if you stay in sweaty clothes for too long, you may get rashes. You should consider investing in airy and absorbent rowing clothes to save yourself some trouble and discomfort. 
Wireless Headphones
Good music always feels good. For most people, music is essential during their workout sessions. Wired headphones may come in the way of rowing, so consider investing in wireless headphones. 
A Bottle and Bottle Stand
Keeping yourself hydrated while you row is important. So, buy a bottle holder that attaches to the handlebar and a lightweight plastic water bottle so that you don't have to leave your rower every time you feel thirsty.
Rowing Machine Maintenance
The better you take care of your rowing machine, the longer it'll perform optimally. Like everything else, your rowing machine has a lifespan, but with the right maintenance, it's possible to extend its lifespan by several years. 
Let's have a look at some tips that will help you keep your rowing machine in top shape.
Put your rowing machine on a flat surface. This prevents excessive pressure on any one side and thus, prevents it from getting damaged.

Clean the rowing machine after every use. It's possible that your sweat drips onto the surface of the rower. The sweat not only makes the rower dirty for the other users but also attracts dirt and germs. 

Inspect your rowing machine at least once every week for any defects or damages and get the issues fixed at the earliest before they worsen. 

Lubricate the rower chain after every 50 hours of use to keep the friction to a minimum and preventing the chain from breaking. 

Clean the fan of an air rower regularly as it can gather a lot of dust.

Clean the water reservoir of your water rower regularly to prevent the growth of harmful microorganisms. 
Frequently Asked Questions About Types of Rowing Machines
How good is a rowing machine workout?
Rowing machine workout offers numerous benefits. It's not only meditative but also strengthens the heart and lungs and tones the muscles. 
Can you lose weight with a rowing machine?
Yes. You can most definitely lose weight using a rowing machine. A rowing machine utilizes 86% of your body's muscles. The full-body workout promotes the burning of calories, building lean muscle mass, and eliminating fat, thereby helping you lose weight.
How long should you row on a rowing machine?
Everybody is different and your resistance changes as well, you should listen to your body, but the recommended amount of time is not more than 30 minutes a day.
Is rowing better than running?
Rowing engages more muscles than running and hence, is better than running for individuals who want to do a full-body workout.
Is rowing bad for the back?
No, rowing is actually good for your back. It strengthens the back muscles and makes your back stronger.
Conclusion on Types of Rowing Machines
Rowing is one of the healthiest physical exercises, not just for rowers but for everyone, in general. Rowing engages the maximum number of your muscles – 86% to be exact – that's more than any other exercise. If you're conscious about your fitness and want to stay in shape, investing in a good rowing machine is a wise thing to do. With a rowing machine, you open doors to the journey of a healthier and fitter you!