Are you looking for a gym bag that will fit all your gear? Do you want something that you can easily carry as you commute from work to the gym? Or from your home to the gym?
We have got you covered. With a wide variety of gym bags available on the market, it's natural to feel overwhelmed. But I can help you make the right choice by introducing you to several different types of gym bags so you can make the right choice for yourself. But before I get into the details, let me share a buying guide on choosing a gym bag for yourself. 
How to Choose a Gym Bag?
Like everything you choose for yourself, your gym bag also needs to meet your needs and align with your unique style. You need a gym bag for storage, so one must first assess the needs, identify how you intend to use the bag, and then look for gym bags with ample storage space, adequate functionality, and a unique style. 
Some of the key considerations that will help you find the right gym bag for yourself include the following. 
Ample Space
Space is one of the most critical considerations when it comes to choosing a gym bag. While many people assume that "bigger is better," that's not always the case. With this approach, you may end up buying a shapeless bag that you can fill with dirty clothes, shoes, and other fitness essentials. However, this is not the right way to choose a gym bag. 
You must first identify how you intend to use the bag. Do you want a gym bag that can hold your clothes, water bottle, and shoes? Or do you want more space for your gear?
Ideally, you should go for a gym bag that has ample space, and once you load it up, it's not too empty or too full. 
Moreover, make sure your gym bag is not too large to fit into a typical gym locker.  
Functionality
There is a reason why you are investing in a gym bag so make sure you keep your unique needs in mind and go for a gym bag that allows you to separately store your clean clothes from your dirty ones while keeping everything else organized so you can find everything that you need quickly and efficiently. 
If you are a swimmer or are prone to heavy sweating following a workout, you can also choose gym bags that have a special, built-in laundry bag for your wet clothes. 
As you look out for functionality, make sure you prioritize organization so you can find everything quickly and efficiently. 
Material of the Bag 
Gym bags are available in a variety of materials, including leather, canvas, cotton, and nylon. And each comes with its pros and cons. But if you are looking for a decent quality, affordable, durable gym bag that is also easy to maintain, then canvas, cotton or nylon are often your best bet. 
Maintenance 
Maintenance of a gym bag may be the last thing on your mind but make sure you choose a material that is easy to maintain. You will need to wash your gym bag frequently, so go for materials that are machine washable and dry up quickly. Moreover, choose a material that is not damaged by moisture and does not soak up the smell.  
Style 
You can find a variety of gym bags made with several types of materials and a functional construct. But you need to choose the one that aligns with your style and preference. 
In all, when choosing a gym bag, it is important that you look for the right material with a functional construct and ample storage space. Moreover, it should match your style instead of being a lack sack that you carry with you as you head out to your gym. 
Types of Gym Bags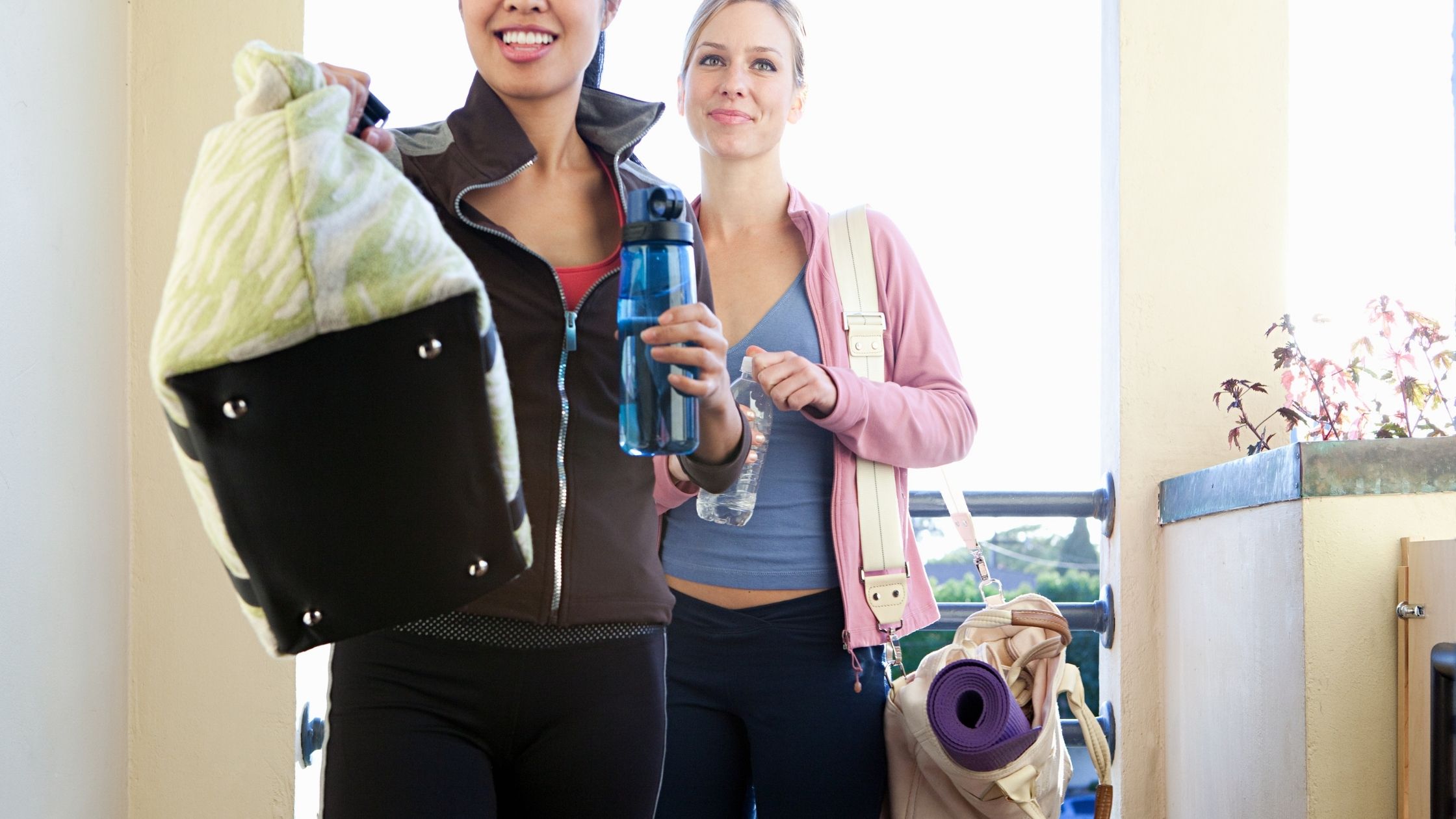 Now that you know how to choose a gym bag for yourself, let's look at different types of gym bags available on the market. 
Duffle Bags 
Duffle bags are one of the most popular types of gym bags. While it's not specifically a gym bag, many fitness enthusiasts prefer to use it as a gym bag as it's usually equipped with extra pockets that can fit in your clean clothes, shoes, toiletries, and anything else that you need after a workout session. Another key feature of a duffle bag is that it usually fits in most gym lockers, so you don't have to worry about your valuables as you work out. 
Back Packs 
You can also use a backpack as your gym bag as it is easy to carry and have ample space for storing your gym clothes and other valuables. However, since it is not specially designed for this purpose, you won't find separate compartments for storing your shoes, dirty clothes, and other gym essentials. However, most backpacks have separate storage for your water bottle, so with the water bottle outside, you can keep your clean clothes safe and dry. 
Sling Bag 
A sling bag is a combination of style and functionality. It is more stylish than a conventional backpack. Moreover, it allows you to hold your everyday gym essentials organized without compromising your style.  
A sling bag is worn comfortably across the back or chest and is secured to the body with a cross-shoulder style strap, so whether you are going to the gym from work or home, you can carry yourself in style. 
Gym Sacks 
Another type of gym bag is a smart gym sack. It is a great bag for you if you are not concerned about style and organization. It offers ample space for storage and allows you to pack all your stuff in one place quickly. Moreover, these bags can easily fit in a traditional gym locker. However, there are no separate compartments, and as you use this type of gym bag, there is no way you can keep your gym accessories organized. 
These are the usual categories that most gym bags fall in. Now let's take a look at some of the best gym bags you can find on the market. 
Best Gym Bags
Here are some of the best gym bags manufactured by some of the country's most popular gym bag brands. What to know about other gym gear, read the different types of gym hats.
Shark Gym Bag 
The zippered tote bag that makes up a great gym bag is the shark gym bag. With inner pockets for functionality and size that offer you ample space, this gym bag is easy to carry as you head out to the gym from work or home. The durable, affordable, and easy-to-maintain gym bag is indeed one of the essentials you need before you start your fitness regime. 
Under Armour Adult Gym Bag 
If you are looking for a durable gym bag that is functional and meets all your storage space needs, then this duffle bag by Under Armour should be your best bet. Available in various sizes and colors, this water and the abrasion-resistant bag can serve you for years.  
Adidas Diable Small Duffel Bag 
Adidas is one of the largest manufacturers of sportswear and sports gear in the world. The industry giant manufactures top-quality apparel, footwear, and accessories, including gym bags, and is indeed one of the best brands for gym bags. 
You will find a variety of gym bags manufactured by Adidas, but if you are looking for a small Adidas gym bag that is durable and affordable, then the Diablo Small Duffel Bag is the one for you. Made from 100% polyester, this bag comes with an adjustable shoulder strap, a perfect size, and a lifetime warranty. What more do you need from your gym bag?  perhaps space to fit your gym accessories and gym hat.
Sports Gym Bag Men and Women
Some of the best gym bags for men and women always offer a separate compartment for your shoes. After all, your shoes can bring in various germs and bacteria into your gym bag and eventually to your home. If you need a gym bag with a shoe compartment, I suggest you go for this sports bag with a separate shoe compartment and one upgraded wet pocket. 
Lululemo Bags 
Another popular name in the athletic world is Lululemon that strives to develop some of the best quality sports apparel and accessories for fitness enthusiasts worldwide. Whether you need a backpack to carry your gym gear or a stylish go-getter bag for carrying your gym essentials in style, Lululemon has something to offer for everyone. 
Lululemon bags are durable, functional and allow you to keep your gym essentials organized. And while they are slightly pricey, the price is worth it. 
Nike Gym Bags 
Do I need to tell you about Nike? I don't think so. Named after the Greek Goddess for victory, Nike has nailed it whether it's the shoes, sports apparel, or any other sports gear. And some of the best gym bags that you can find on the market come from Nike. Surprisingly, they are not the most expensive ones! Whether you prefer a duffle bag or a Brasilia backpack, you can find all types of gym bags at Nike. 
So what are you waiting for? Just do it! 
Gym Bag Maintenance 
Regardless of the type of gym bag you choose, your gym bag will need some maintenance. I am sure you wouldn't want to be that person who stinks after a workout. But do you know, that in addition to cleaning yourself after a workout, you also need to give your gym bag a good scrub from time to time. Washing is an integral part of gym bag maintenance. Make sure you regularly wash your gym bag. It's best to wash your gym bag at least once a week. 
Meanwhile, you also need to ensure that you transfer your dirty gym clothes from your bag to the laundry basket as soon as you get home. Moreover, if you don't have time to wash your gym bag frequently, try keeping some tea bags in your gym bag. They remove the odor but don't forget to change them after a few days. You can also place dryer sheets if you want your gym bag to smell fresh. It is also a good idea to keep a pack of disinfecting wipes so you can wipe down your bag each time you use it. It's especially important if you keep your shoes in a bag that can bring in a variety of germs and bacteria. 
Finally, always make sure you place your gym bag out in the open air from time to time. Sunlight and fresh air are some of the natural sources that can help you get rid of bacteria and smell. 
Final Words on Types of Gym Bags
If you are new to the fitness world and need a gym bag that can fit in your gym gear, is easy to carry, and aligns with your style, you will be overwhelmed by the choices available on the market. To find out the best one for yourself, you need to know the key considerations to choose the best gym bag for yourself. The buying guide and some of the best gym bag options highlighted here can give you a great start as you head out to buy the best gym bag for yourself. 
But regardless of which gym bag you choose, don't forget to take good care of yourself and your gym bag.